FAB Dinner (Fellowship Hall)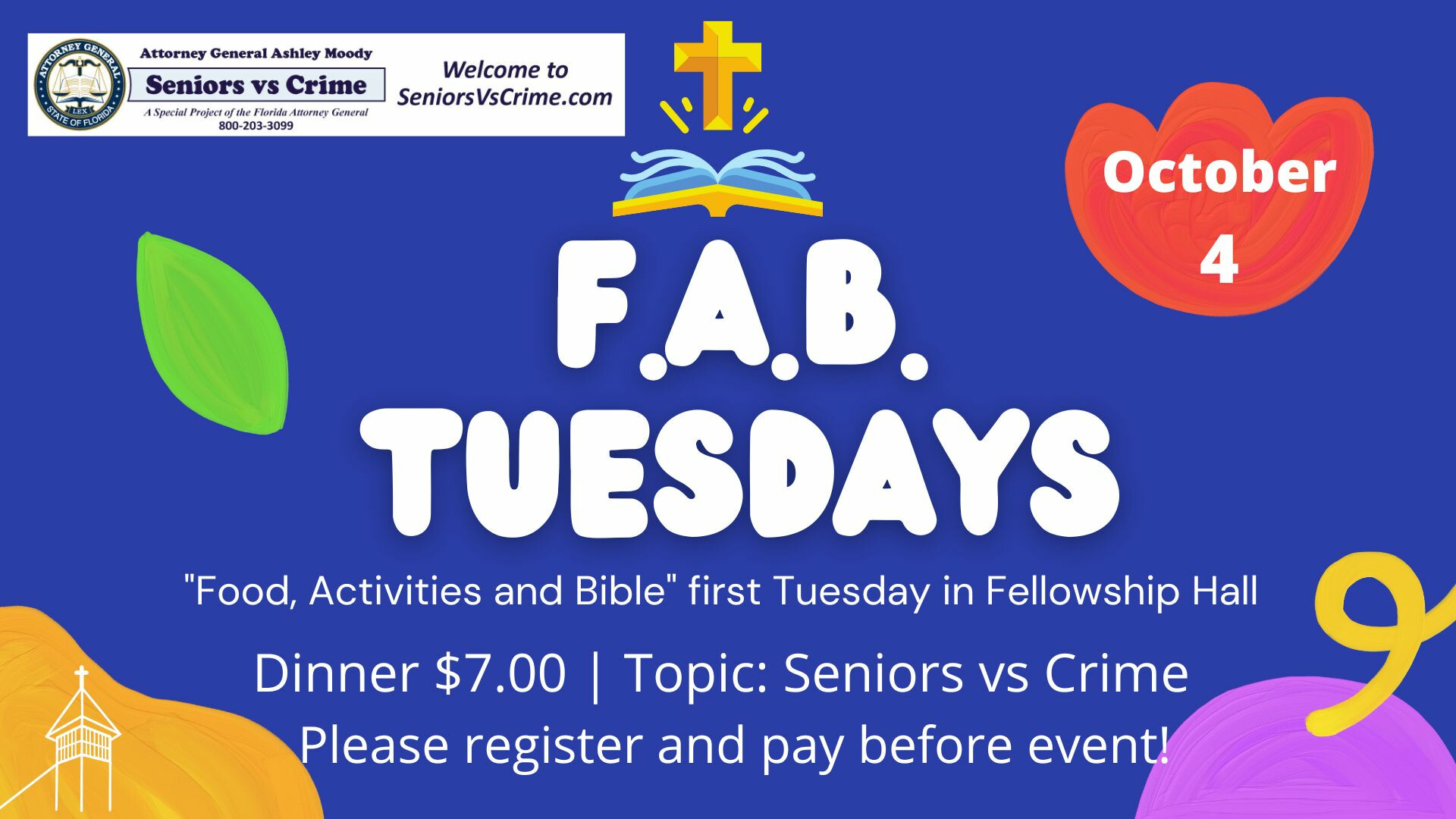 October 4 - FAB Dinner Registration online or in person
Dinner begins at 5 p.m. - cost is $ 7 per person
Menu: Glazed pork loin with apples, oven roasted Rosemary potatoes, medley of vegetable, roll with honey butter and Strawberry short cake
Don't miss this delicious meal cooked by our very own Operation Homebound Chef Ed Brown.
Our Program begins at 6 p.m.: A Presentation by Seniors vs Crime Project
REGISTER AND PAY NOW – CLICK HERE
IN PERSON - Sunday mornings September 25 and October 2 after each service at the Discipleship Desk
Or Monday, September 26 and Wednesday, September 28* from 9 a.m. to noon
* Payment may be made by cash, check, or credit card (exact change is appreciated)
Our Program beginning at 6 p.m.: A Presentation by Seniors vs Crime Project.
Our speaker will be

Larry Moran from the Wildwood Office of the Seniors vs Crime Project. The Primary Mission of the Seniors vs Crime Project is to reduce the victimization of senior citizens who are targeted for specific crimes or scams based on their age. The Project accomplishes this mission by focusing on three primary objectives:
· Provides education through various scam and crime prevention programs tailored for any size group.
· Investigates complaints and seeks restitution for seniors in appropriate instances, free of charge. All monies recovered go to the complainant.
· Provides senior volunteers with the opportunity to work in a project office to assist other seniors and learn new skills.